Are you ready for summer? 
Did you know it is a requirement, by law, that you have a certified pool fence in Queensland? This has been in effect since December 2015.  Whilst it seems a little daunting for property owners who have had their pools for years, it is a fairly easy process to complete.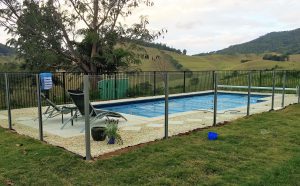 If you have recently replaced your pool fence or have just installed a new pool, we can help make sure you are compliant.  
Making sure you have a fence that is in good condition and undamaged goes a long way to keeping everyone safe. Drowning is one of the leading causes of death, in Queensland, for children under 5 years old.  These stats are scary and supervising children in the pool, along with teaching them how to swim are only 2 parts of the puzzle.   
Simple things to think about:  
Does the gate self-close?

 

Pool gates MUST open outwards

 

There is a requirement for a non-climbable zone of 900mm

 

Is your fence height a minimum of 1200mm from the finished ground level to the top?

 

Do you have a compliant CPR sign displayed?
Are there any damaged fence panels? 

 
In Queensland, you are required to provide a pool safety certificate when you sell or lease your property.  There are lots of great resources available, including a checklist to help you prepare for your inspections and see what you might need to do before we come onsite. 
Did you know? 
Since 1 November 2011, ALL pools are required to be registered.  To check if your pool is on the register…Is my pool registered? 
Form 21 compliance will be lodged with Pool safety council as part of KP Building Approvals service (no extra fee)

 
Pool demolishment 
Most people are generally unaware that removing a pool also requires certification.  Once you have decided whether you are removing/demolishing or filling it in, Council requires you to notify them and provide a building compliance certificate.  
If in doubt, a simple phone call or email will help put your mind at ease.  KP Building Approvals are happy to have a chat and give you advice on what you need to do to be and stay compliant. 
For more information:  
QBCC provides a comprehensive and helpful guide to pool regulations and information http://www.qbcc.qld.gov.au/home-building-owners/pool-safety/overview